Customer Service Excellence
Customer Service Excellence is a government-backed industry standard focusing on service delivery, timeliness, information, professionalism and staff attitude. It emphasises customer insight (knowledge about the people who use our services), understanding the user experience and robust measurement of service satisfaction.
We were assessed against 57 different elements of the standard. The assessments involved providing evidence of how we meet the standard, together with assessors interviewing our staff, service users and stakeholders.
The Customer Service Excellence standard means you can expect to receive a high standard of service from us, whatever the outcome or decision. We will make sure we understand your circumstances and needs. We will explain our processes to you and what you can expect from us at every stage of our work - and we will always treat you with respect and courtesy. You can read more about our commitment to you in our service user standards.
Our accreditation
In March 2022 we achieved compliance in 45 elements and increased our 'compliance plus' ratings to ten elements. 
In March 2021 we achieved compliance in 47 elements and increased our 'compliance plus' ratings by excelling in eight elements. We were also proud to win awards for 'Using standards to support change' and 'Customer Service Excellence - building a customer focused organisation'.
In March 2020 we achieved compliance in 48 of the 57 elements and excelled with a 'compliance plus' rating in three elements.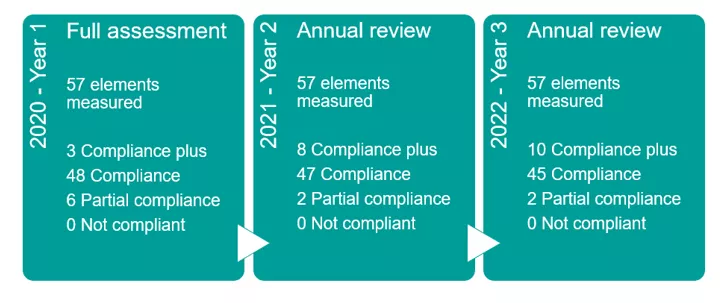 Compliance Plus means we are exceeding the standard. Compliance is that we are to the required standard and Partial compliance means we are not quite to the standard but are demonstrating we are striving to get there. It should be noted that any 'Not compliant' areas would result in the IOPC not achieving the Customer Service Excellence® standard.
Our stakeholder engagement, policy and service teams conducted a range of consultation activities that influenced improvements in the experience of our service users.
Our five year strategy communicates our focus on service users and our core values support this. Our staff have a clear direction and are encouraged to see users as individuals and understand their needs.
Police forces, Professional Standards Departments and staff spoke of learning and sharing best practice to improve experience and practice. Examples include Learning the Lessons magazine, learning recommendation workshops, our website information and subject matter networks.
Our work with different service user groups to continually improve our service. Examples include Victims Right to Review, Know Your Rights campaign, and social media strategy.
Our commitment to making sure all staff influence how we work to provide a better service user experience. Includes work on our case management system, learning and development strategy, and thematic approach to subject matter experts.
Our commitment to making sure our people are kept safe and well, which has allowed us to continue to provide the best possible experiences for our service users.
Our robust approach to continually improve the information we provide verbally, and in published and web-based formats. Making it readable and easy to understand, and accessible to our service users.
We make sure external service users' personal information is secure at every stage. Extensive work has made sure that policies and procedures relating to service user personal data are in place, and a robust formal approach to conducting internal audits is possible.
Our staff feel empowered to deliver the service and make appropriate decisions. Staff are empowered to lead on projects such as reverse mentoring and allyship, which are designed to promote equality, diversity, and inclusion across the IOPC and beyond.