Oversight
We hold police forces to account for their performance in complaint handling and work with our external policing stakeholders to identify issues, improvement action and effective, shareable practice.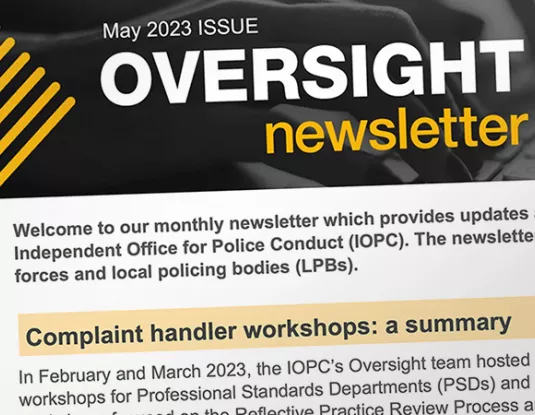 We aim to drive up standards in complaints handling through our strategic relationship with forces and local policing bodies. We will analyse data to identify patterns and trends or performance issues in forces. 
Through our oversight work, we provide practitioner inputs, workshops, dip sampling and other focused activities to allow us to produce guidance documents and publications, to share knowledge, effective practice and to identify improvement activity. 
This work ensures that the standards and expectations set out in our Statutory Guidance are adhered to and that forces are held to account for how they handle complaints.
Interventions and Improvement
To support our vision that everyone should have trust and confidence in the police, our Oversight team carries out interventions and improvement work across different areas of the complaints system. The team analyses intelligence, information and data received from multiple sources to identify national trends and core topics to focus on. It is this analysis that informs the team's project work with our policing stakeholders. 
Newsletter
Our Oversight Newsletter is produced for complaints handlers at police forces and local policing bodies about our work. This includes corporate news, guidance, tips, and answers to common questions we receive.