Make Yourself Heard: Understanding the Silent Solution
What is the Silent Solution?
When you need to call 999 but can't talk - the Silent Solution can help. The Silent Solution is a system that filters out large numbers of accidental, or hoax 999 calls while ensuring people can alert police and get help when they are in genuine need but unable to speak.
A recorded message will instruct callers who can't talk to press 55 to be put through to police. Staying silent and not pressing 55 will lead to the call being terminated.
How does it work?
If you need urgent police help but cannot speak, you should:
Dial 999
Listen to the questions from the operator
Respond by coughing or tapping your device, if you can
If prompted, press 55 to let the operator know it's a genuine emergency and you'll be put through to police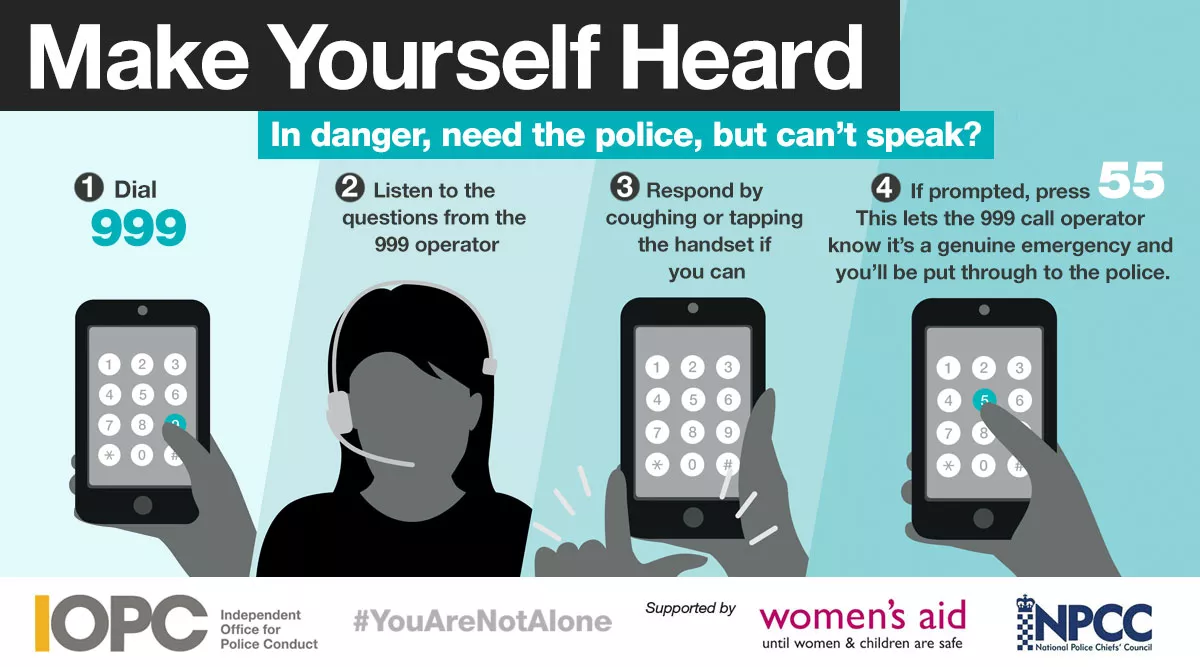 Make Yourself Heard
In April 2019, we launched our Make Yourself Heard campaign to raise awareness of the Silent Solution system. This followed our investigation into prior police contact with a woman who was tragically murdered by her partner. She had wrongly thought that police had her number and if she made a silent 999 call, they would know to come.
After police forces and domestic abuse charities reported an increase domestic abuse-related calls during the Covid-19 pandemic, the Home Office launched the #youarenotalone campaign in April 2020. As a result, we refreshed our campaign materials and worked with the NPCC, Women's Aid and Welsh Women's Aid to again raise awareness of this vital tool. You can find links to posters and infographics on this page.
Next Generation Text service
The Next Generation Text service, run by BT, is designed for people who are deaf, hard of hearing or have a speech impairment. You need to register your mobile number before using the service. Visit the NGT website for information.
Download the promotional material