If you're at risk of domestic abuse, remember the Silent Solution
With domestic abuse reports increasing during the COVID-19 lockdown, the Independent Office for Police Conduct (IOPC) is concerned that people in danger may not be aware of a potentially life-saving service.
The Silent Solution system – overseen by the National Police Chiefs' Council (NPCC) - enables a 999 mobile caller who is unable to make a noise or speak, to press 55 when prompted to inform police they are in a genuine emergency.
Last year the IOPC launched a campaign to promote the service with support from the National Police Chiefs' Council, Women's Aid and Welsh Women's Aid. Updated IOPC graphics are being shared with police forces, domestic abuse charities and local government authorities to help share the important public information further at this critical time. Copies of the new graphics in English and Welsh can be downloaded from the IOPC website.
While the 'Make Yourself Heard' campaign reached more than 16 million people via media and social media, there remains a need to continually promote awareness of the service.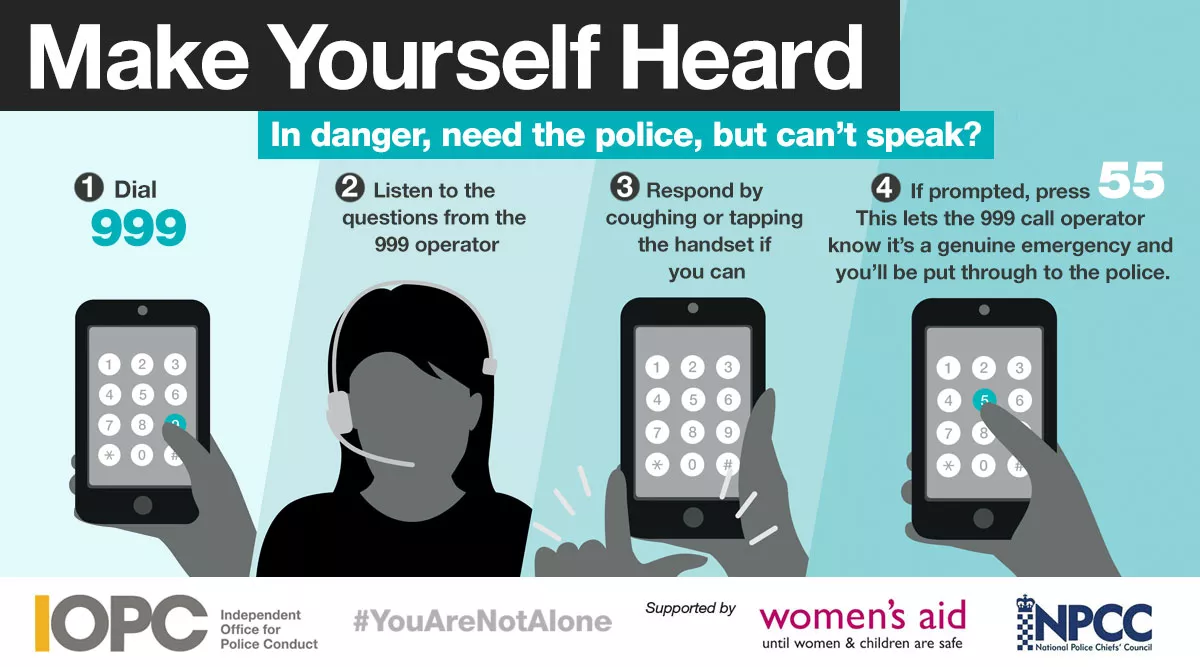 Of the 20,000 silent 999 calls made a day, around 5,000 are transferred to the Silent Solution system with the 55 instruction detected roughly only 50 times.
IOPC Director General Michael Lockwood said: "Domestic abuse charities are reporting increased demand for their services since the start of COVID-19 restrictions and we are concerned that people at risk may be less able to make an emergency phone call in lockdown.
"If you're in danger, call 999, listen and respond to questions and instructions and make yourself heard by coughing, tapping the handset or once prompted by the automated system, by pressing 55. Police will do their best to respond.
"No-one should have to live with domestic abuse and it is never OK. Knowing what to do to make yourself heard if you're in danger could be life-saving, so we're encouraging as many people as possible to share this important information."
NPCC lead for domestic abuse, Deputy Chief Constable Louisa Rolfe, has stressed that officers will still attend calls for help and arrest perpetrators despite the additional pressures on police as a result of the COVID-19 restrictions.
People facing violence or controlling behaviour at home should still make a report to police or seek advice and support from a local domestic abuse service.
The Home Secretary recently announced a campaign, #YouAreNotAlone, to reassure those affected by domestic abuse that support services remain available during this difficult time.
If you need support, in England, call the freephone, 24 hour National Domestic Abuse Helpline 0808 2000 247 or visit www.nationaldahelpline.org.uk. Women's Aid also have a live chat service available on their website at www.womensaid.org.uk
In Wales, call Live Fear Free Helpline 0808 80 10 800 or visit https://www.welshwomensaid.org.uk/what-we-do/our-services/live-fear-free-helpline/
The Silent Solution system filters out thousands of accidental or hoax silent 999 calls made daily. Around 50 emergency calls from mobiles a day are transferred by a BT operator to police forces in the UK as a result of someone having pressed 55 when prompted, enabling the police to carry out urgent enquiries to respond.
The Make Yourself Heard campaign was first launched last year with graphics, a poster and a 'How to Guide', which were shared widely to raise awareness of the Silent Solution system and help debunk the myth that a silent call by itself will automatically bring help.
The campaign was developed in response to a 2016 investigation where we looked at Devon and Cornwall Police's contact with Kerry Power, a woman who was tragically murdered by her partner, and who wrongly thought that police had her number and if she made a silent 999 call, they would know to come. The learning from the investigation highlighted the need for greater public awareness and resulted in the campaign being developed with support of the NPCC and Women's Aid last year.